A photo series celebrating scars of all shapes & sizes, and the incredible stories behind them!
About "Behind The Scars"
Our skin is the road map to our lives, from the intricate lines around our eyes to the age spots of the elderly, to the faded scars often long forgotten, gained from the rough and tumble in the school playground. Each scar tells it's own story – a badge of victory in a fight, recovery from an accident or illness, a long awaited "fix".
"Behind The Scars" is a celebration of beauty, of flaws, of battles won and obstacles overcome. It is about survival, living beyond that and capturing the memories. It is a truly honest depiction of how our history, shown through these scars does not define us but compels us.
A reaction to a scar is personal, and often very difficult. The adjustment and acceptance from what is deemed perfect to what is then judged as a disfigurement is not easy. The feeling is uncomfortable, breaking both self confidence and body image. The scar is raw, and infinite. It often takes time and courage to discuss, let alone display such changes to the outside world.
To put this into a pictorial narrative shows such scars in a different light. The uninvited invasions of our bodies, each one unique, tells stories of pain and recovery. Like strokes from an artist's brush, once removed from the harsh reality of an operating theatre.
They take on a form, a beauty perhaps that is sometimes difficult to appreciate, but fascinating all the same. If these images help us to think differently about scarring, and for those that "wear" these scars, to look differently at not only the imperfections, but the individuality these marks might engender, then for me, I would deem the project a success.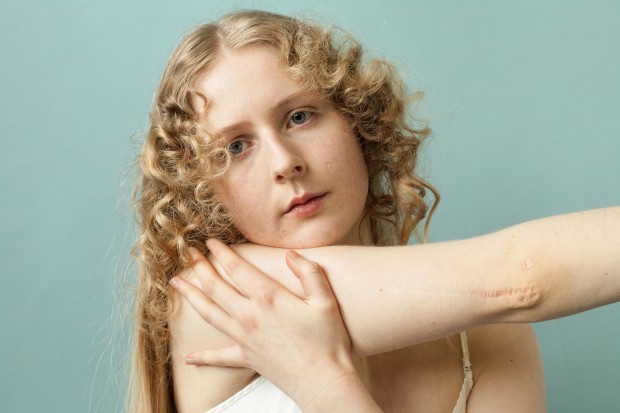 Miriam for Behind The Scars. Her full story can be found at the top of the page. 
Why do I need you?
So far, Behind The Scars has been entirely self-funded, and 3 shoots have already taken place in the UK, with people from a variety of backgrounds stepping forward to take part. I have looked into various photography grants, and sadly many of them the project is not eligible for as the series is already underway!
For more info and to Support this Campaign at